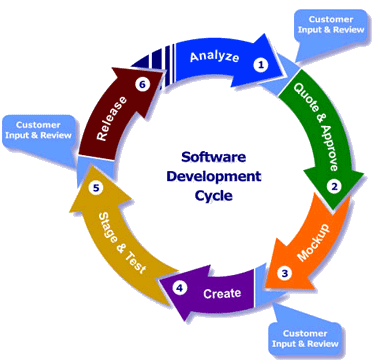 Despite the availability of standard software products and explosion of shareware,
"Off the shelf" software and database solutions often don't solve all of the needs of a
busines. Studies have shown that 80% of users only make use of 20% of the
functionality of most software packages (referred to as the 80/20 rule). IS Technologies
provides bespoke software moving the clients closer to the 100/100 rule.
IS Technolgies has more than 10-year experience in custom software development.
Our expertise comprises a comprehensive set of open-source and proprietary
technologies that allows us to execute the most challenging and complex projects
and satisfy customer requirements, expectations and preferences.
To cut costs and ensure effective results we allocate well-balanced project teams
that fit the project goals and software requirements best. Our developers, software
architects, analysts, coordinators and project managers take advantage of the
Itransition knowledge management system and continuous process
improvements.
Our Domains
Desktop application development
We create cross-platform standalone and client-server business applications ensuring
stable functioning, high performance and usability.
Mobile application development
IS Technologies helps extend your sales, customer service and marketing efforts to the
most popular mobile platforms, such as iOS, Android, Windows Mobile, and others. We
can help you connect your customers and employees to corporate systems, create a
mobile software product or a client application to your own or third-party information
service.
Embedded systems and low-level programming applications
We offer embedded systems and device interfaces development, custom driver
development and high-performance applications design. IS Technologies has a proven
track record to work alongside R&D organizations for assisting in cutting edge research.
Web development
IS Technologies develops feature-rich custom web applications, sites and portals for
corporate and internet-focused projects: E-commerce, Online Servicing and Order
Processing, Social Networking and much more.